WHAT A WONDERFUL MAN,HUSBAND AND FATHER,MY HEART GOES OUT TO ALL THE FAMILY,
LOVE PIP XXX
~~~~~

Dear Mrs Irwin, Bindi and Robert (Bob), Mr R Irwin and family
When we first saw your husband and father on TV many many years ago we thought "how embarrassing". We then came to realise we should not be embarrassed - we were seeing a fair dinkum Aussie on TV who was sincerely passionate about what he did and wasn't ashamed of it, as alot of people are ashamed of themselves. You must be so proud to be a part of Steve: for what he lived for and achieved - and in each and every one of you, Steve will live on eternally. May you some peace in this dreadful time, and know that Australia - the world - shares your heartache.
Sincerest condolences
Karen R.
Adelaide, South Australia
~~~~~

Terri, Bindi, Little Bob and big Bob
I'm with you at this unbearably painful time. What a wonderful lively man, an overgrown innocent boy-even his language was decent. He won't be resting in peace he is just a little ahead of us larking around. And where there is animal cruelty he'll be there easing the pain with his spirit. Vivien H.

~~~~~

To Terri, Bindi & Little Bob,
I know that these messages may not mean a lot in the early days of your grief, but hopefully someday you will look back and know how many people loved your special man. We will always appreciate the extraordinary gift he he shared with us, in understanding his beloved animals. He was truly a special person and touched the lives of every one who saw him, young or old.

He will live in our hearts forever.
Gail

~~~~~

Dear Terry Bindi and Bob, very sorry about Steve, and to your kids your dad, I know it hurts you deeply on losing this beloved man but please don't worry as it says in the scriptures he will be resurrected to a paradise earth where all animals will be his friend, just as they were here on earth. Hope this is some condolence to all of you, thinking of you with all my love Grace Matheson
~~~~~

Steve you will be sadly missed by everyone, Terri, Bindi & Bob, our thoughts are with you.
Luv,
Isa QLD

~~~~~

Dear Terry Bindi little Bob and Steves Dad
What a sad time for the whole world, my son caleb who is 5 loved him to bits.
love to all of you

Love and prayers Mellisa Caleb and Joanne of Newcastle
~~~~~

Hi there, this is the Simmons Family, and we would like to offer our condolences to Terri, Bindi and little Bob. The kids loved watching his crazy antics and his infamous 'crikey'. Amber would like to say I wish you good luck with your Australia Zoo and that we will be back to see it one day soon. To Bindi and Bob, I know you are missing your dad, but he is still watching you and loves you very, very much.
We felt his loss like a family member...I hope that his family will carry on with what he did in his every day life. Bindi, we will be waiting in anticipation for your show that you've been filming. ttfn
~~~~~

TO TERRY BINDI LITTLE BOB AND BIG BOB
WORDS CANNOT EXPRESS OUR FEELINGS AT THE LOSS OF SUCH A WONDERFUL MAN
OUR LOVE AND PRAYERS
CATHY AND JOAN DOWLING
MELISSA AND CALEB DOWLING
THE CODEY FAMILY ALL OF ORANGE NSW 2800
~~~~~

dear terri bindi and bob,
my name is kylie harland and i worked at australia zoo and had the pleasure of meeting steve and bindi on many occasions, i feel so much loss that a great man should be taken so suddenly i am so sorry for your loss you will always be in my heart and my prayers, i will miss steve very much.
regards
kylie
~~~~~

We'll miss you and the crazy antics you did on screen, the world has lost a true icon, you will never be replaced, I know you'll be looking down and watching over your family and the zoo, hope theres a few crocs with you to keep you busy, god bless the croc hunter.
All our love
Steve, joanie and laura
~~~~~

I was shocked to hear that Steve had passed. Everyone will miss him greatly, Our love goes out to his family and everyone at the Australia Zoo. I was glued to the T.V when I heard the news and was crying when Australia paid tribute to him.
Love the Noe Family.......Karen, Patricia, Sandra, Katrina, Rebecca, Trevor, Anthony, Ashleigh, Monica, Michelle, Kristeena, Adam, (Kirsten in God's care)

~~~~~

Well There Nothing Left To Say That All The People That Have Left Tributes, For Steve, Haven't already said. So What I Can I Say.
S adly Missed
T ributes from all
E very one loved you
V ery much So
E ver in our hearts
I n memory of you
R est in peace
W ildlife carer
I n our thoughts always
N ever forgotten
From Your Loving Animals At Australia Zoo
We Must Not Forget Those He Cared About The Most
From The Gibson Family
Queensland

~~~~~

To the Irwin family.
I have never met Steven, but I feel that he was a wonderful man. My 40 year daughter and I actually cry when we watch some of his TV shows. I can't stop thinking about it, it feels like I have lost a part of my family. I sure hope you guys can continue what he had started.
Please take care and will contact you again later.
Louise Palovitch

~~~~~

I hadn't realized how truly fond I was of this wonderful guy and how very very much he'll be missed. A bright light in this world has gone out, all too soon. My 28month old daughter watched him for the first time in the Wiggles movie last week and says his name repeatedly. We'll bring her to Australia zoo someday to see what wonderful important work you guys are doing. Peace and Love to you Terri, Bindi and Bob.
Sue
NSW

~~~~~

Terri, Bindi, Little Bob
I don't know what to say that everyone hasn't already said to you.
My heart is with you all, and I hope as time goes on the pain will ease a little.
Steve always made me smile and I learnt something new every time I seen him on Tv.
He seemed like a wonderful man.
Thinking of you all..
Bindi (it's only my nick name but I was wrapped when you named Bindi.)
~~~~~

To the Irwin Family, Deepest condolences on the loss of a great man.

A SPECIAL PERSON
A SPECIAL FACE
A SPECIAL SOMEONE
WE CANNOT REPLACE.

RIP STEVE.

Wendy SA

~~~~~

For Teri, Bindi, Bob and family.
Our thoughts are with you, for the world has lost a wonderful man who had such a love for all creatures great and small, he bought an awareness to people to love fear, protect and respect all animals. he will be sadly missed. But for you and your family not only do you have the publics grief to contend with but your own private pain as Steve wasn't just a animal ambassador he was your husband/best friend your soul mate, your babies daddy Bobs son, a grandson, and a mate to many. Our hearts go out to you and your family but be glad that you children will always know that he was a special man and he loved you and your children to bits.

May your tears not
be of cold and rain
but of rivers of gold
to heal your pain

The Foster Family
Far North
New Zealand
~~~~~

Australia has not had to deal with such a loss for many years, but not only is it a big loss for Aussies but for every living animal in the universe. My thoughts and prays go out to Terri, Bindi, Bob. If there is one woman who can carry on Steve's visions, it is you Terri, you will have all the love
and power of the universe to give you strenght to carry on every day. God Bless and we are all with you xxxxxxx
Sharyn Kent

~~~~~

Steveo
you were a true aussie . You touched the hearts of many aussies with your catchcry ''crikey'' .You had a life of happiness and you would never let anger let you down .You died doing what you loved most .You were known as the wildlife warrior and you did so much for the enviorment .We all loved your warm personalitie
goodbye mate we'll miss ya .
Anna Foley
Coogee NSW

~~~~~

Dearest Terri, Bindi and lil Bob and The Australian Zoo,
My warmest condolences and thoughts are with you all today. Well, to be honest I don't know quite what to say. I have read all the tributes on this site and every one of them touched my heart. Steve will be truly missed as we all loved him so much. "CRIKEY", his personality, his humour, his loving respect for our animals and conservation, his enormous amount of love for his family and the Zoo, and his gorgeous cute looks that just brings a smile to my face thinking of him with his happy, enthusiastic cheeky smile.
I was reading a magazine dedicated to Steve over here in NZ, and there was a lovely picture of Bindi on his shoulders in the water both holding Crocs. Absolutely gorgeous!!! I could see so much of Steve in her. The article said she had been doing a documentary with Steve on animals too just like her father, and I very much hope it airs on T.V. to see those two in action would be wonderful.
I can see his love and dedication for animals and the wildlife will carry on through you guys and the Zoo. What a spectacular funny, courageous, loving and remarkable man Steve was. He will be surely missed by all. RIP Steve. Lots of Love, hope and wishes to you all.
Jen
Auckland. NZ
~~~~~
I've watched his doc's ever since i was a little one and it saddens me to know he has passed away i never met the bloke but it feels like i knew him so well I'm only 16yrs old but Steve felt like part of my family i miss him dearly.
Tara n.s.w
~~~~~

Goodbye Cobba

All I had ever heard from the man in real life was "Check that out" whilst he was driving past the elephant feeding at the Auzzie zoo. Didn't see him, but I felt him, his enthusiastic vibe and contagious compassion for wildlife was felt by all who have known the man through whatever medium that may have been. This legacy will live on I have no doubt at all. I believe the world is waking up, as did Steve and he is a catalyst for change for the better. He was a very special man, such a beautiful soul, I felt deep sadness at his loss, i still do. But I have also awoken from my slumber in some way. It is time to continue the dream of conservation, preservation, rehabilitation and living life to the fullest.
Thanks mate, I am forever grateful
Shine-on
In health and happiness,
Eddie
~~~~~

STEVE IRWIN - What a wonderful human being!
An ordinary bloke with an extraordinary passion for life has left a lasting impression on everyone and everything. A role model for the young and old alike - about conservation, following your dreams, enjoying simple pleasures, never wasting a second of this gift of life and so much more. Despite your absence I know you'll continue to teach and inspire us with the legacy you leave.
Our thoughts go out to the Irwin family who epitomise everything Steve stood for. Your loss is incomprehensible but we hope you find solace in each other and the world's thoughts and prayers.
Denise, Marcus and Corbin
Victoria
~~~~~

My son and I have watched The Crocodile Hunter series for so long the Steve and Terri seem like old friends. He made watching fun and exciting. He showed us that every animal is beautiful and worth learning about. I cannot begin to say how sad we are for this loss. We lost the man we both loved dearly a year ago, so I can say that time makes it hurt less. But you never stop missing them. Our prayers are with Terri, Bindi and little Robert. I am thankful that my son was able to learn so much from Steve and "catch" a bit of his passion. Thank you Steve. Terri- I admire the way you are always an equal partner in every adventure and I hope you will continue to educate and be a role model for every girl and woman.
with our prayers,

Shelly Bonney and Hunter Bonney Spreutels
~~~~~
To Steve's wonderful family,
I cannot imagine what you must be going through, please know he gave the world so much. A true aussie and a true gentleman.
Dianne, Allen, Mikaela and Brynsley Hawkins NSW
~~~~~

Steve Irwin will be sadly missed
Love ya mate!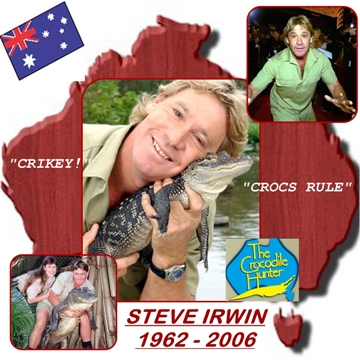 ~~~~~

Our thoughts are with the family through such a sad time.
The Spiteri Family
~~~~~

My husband and I loved Steve Irwin. We are so deeply saddened by all of this. I wake up every morning and think of Steve and his family and what he has done for all the animals of the world. There will never be another person so kind and so enthusiastic towards all creatures. He shined in this world and he will continue to shine forever in our hearts. We love you Steve...

Patricia and Douglas Single
Baltimore, Maryland USA...
~~~~~

To Terry, Bindi, Baby Bob & Bob senior!
In Life we loved you dearly,
In death we love you still.
In our hearts you hold a place
no one could ever fill.
If tears could build a stairway
and sadness make a lane,
We'd walk the path to heaven
and bring you back again....
Thinking of you at this truly sad time of your Lives,
Steve was one in a million. We will never forget him.
God took this angel much to soon.
All our Love Eva, Ashley, Shonah, Daniel, Mickey & Gypsy
~~~~~

I'm shattered.... I miss you already. Thank you for bringing me all you did.
Lots of love to all of those who feel the pain 100X more.....
Susie

~~~~~

Bob, Terri, Bindi, Young Bob

We were so very sad to hear the news that day. Our family loves your documentries and your heartfelt love for our worlds animals and their conservation. We grieve for a man we never met but loved just the same and we feel for you, the loved ones left to pick up the pieces. Life won't ever be the same but we send our hopes that in time you will stride forward with beautiful memories.

Rose, David, Nat, Luke and Gene
~~~~~

My heart goes out to Bob, Terri, Bindi & little Bob I like many others was devastated to hear of Steve's untimely passing. The world has lost a unique and caring person that can never be replaced.
Steve will live on in our memories.
My Sincere Condolences
Kerry
~~~~~

Terri, Bindi, Bob & Australian ZOO
I'm so very sorry to hear of your loss, I shall miss him a lot.
Here's hoping in small way, all your heartache will turn into laughter & joy with his dream of Conservation, will carry of through your children Bind & Bob.
Godbless Steve, Rest In peace
Crikey let the Croc's rule
~~~~~

Stevie Boy
The night before you passed away, we watched a show of yours and afterwards I said to my husband, " You know, he's such an Adam. " By that I meant there was all of Gods magnificent creation and Adam, just Adam at first, taking care of them. Of course God created Eve to help Adam and Terri was so good at that. Then there was Noah and Steve is like Noah as well. Giving his life to the preservation of God's creation.
So thank you Steve for honouring Gods call on your life and for doing it with such passion and enthusiam.
Thank you for your wonderful parents who did such an amazing job of rearing you and to your beloved wife Terri whom we all love... who stood at your side and has showed what great fruit a loving committed relationship can bring. May the legacy pass on to Bindi and Bob. Thank God for your Daddy. He was awesome and I'm sure he's having great chats with Jesus the architect of all creation.
May God Bless you all. Our love is prayed through tears to you all.
The Gibbes Family
Auckland NZ

~~~~~

We will miss you and you have touched our lives we hope your death has not been in vain and your work will go on .
the Joy family
~~~~~

Steve Irwin
You have touched the lives or many and we are feeling the pain of your tragic and untimely death.Your work will continue through all of us.

Ron and Karen Houchin Qld
~~~~~

I WOULD LIKE TO SEND MY SINCERE CONDOLENCES TO STEVE'S BEAUTIFUL FAMILY
TERRI, BINDI AND BOB!
I HAVE TREASURED STEVE SINCE HE BEGAN AT THE AUSTRALIA ZOO. I VISITED THE ZOO MANY TIMES AND IT IS SO UNMARKABLY THE BEST PLACE I HAVE EVER BEEN TO.
HE IS THE BEST THING THAT HAS HAPPENED TO THIS WORLD AND WHAT HE CREATED AND BELIEVED IN!
CONSERVATION THROUGH STEVE AND HIS FAMILY AND WORKERS AT THE GREAT AUSTRALIA ZOO IS THE MOST TREASURED MEMORY AUSTRALIA CAN HAVE OF THIS GREAT BEAUTIFUL TRUE AUSSIE GUY!
I WILL SO MISS HIM ALONG WITH THE REST OF THE WORLD BUT IF WE ALL STAND
TOGETHER AND BELIEVE JUST LIKE STEVE DID CONSERVATION WILL KEEP GOING AND
THERE WILL BE A BETTER WORLD OUT THERE FOR OUR CHILDRENS CHILDREN....
YOUR WORK WILL GO ON STEVE!!!
LOVE ETERNALLY
Brad,Kelly,Blake (8),Chris(7),Mikaylah(5)xxx

~~~~~

Dear Terri, Bindi and Bob
We would like to send our thoughts and Love to you all. Words Can not Tell you the feeling we got when we heard this Sad News. Being from the Sunshine Coast. ( Just 1 street away from Your Zoo) Up until Jan 06. Now in Toowoomba. My 4 Children just Said Mum I wish we were still on the Coast and close to the Zoo. And they then Said that Terri and Bindi and Bob and all your Family are in our hearts and our thoughts. Like Many others we could not get to your Zoo to pay our respect But we will be watching on Wednesday. RIP STEVE. Your children will help you live Steve dreams Terri and we all know you Can do it in your own time.
Baldwin Family
Toowoomba
~~~~~

I want to send my sympathy to The Irwin family.
Animal Planet came to my home town Farmington Conn. And We took my grandson as he loved Steve Irwin. We had our picture taken with a blow up of him and my grandson was so proud we had the picture blown up and we treasure it .
May God Bless you all and give you peace at this very sad time.
Sincerely
Wayne O'Neal
And Nana Helen Siegel
~~~~~

Dear Irwin family,
My prayers are with you at this time of great loss. May God bless you all and may Stephen rest in peace.
Joe and Ruth
Newington Conn
~~~~~

Steve Irwin was the best ambassador a country could ever have, his passion and dedication to wild life conservation were of the highest calibre.
After my many trips to Brisbane and visits to the Australia Zoo on my return home I would look forward to your programs.
You will be sorely missed and not just by your family, and the animal kingdom.
Rest in Peace
Ken Jones - UK

~~~~~~

Dear Terri, Bindi and Bob,
I am so, so sorry and saddened to hear of the sudden death of your soul mate and husband, Steve. I recently have experienced the loss of my soulmate and husband and can honestly feel what you are going through. It is just not fair that the best ones are the ones that seem to be taken first. I felt for you as soon as I heard the news and can honestly say that I know how hurt you must all be feeling. I had everyone saying to me that you have beautiful children who need you and that you will, as each day arises, grow stronger. At first I didn't believe them and just wanted to crawl in a hole and hide away from the rest of the world forever BUT even though it has now been 10 months, it still seems like yesterday.
I pray that you and your family are ok and I know that Steve would be watching every step you all take. He was such a great man, reminded me of my husband, and like mine, I know that your house is going to be soooo quiet now and it really is a horrible feeling.
Please take care of yourselves and God bless you all. I am thinking of you and pray that you will carry out the wishes of your wonderful husband. He was so proud of his family and loved you all very much.
RIP Steve. You will be sorely missed by everyone.
Dawn Field and Family

~~~~~

Dear Terri, Bindi, Bob & family,